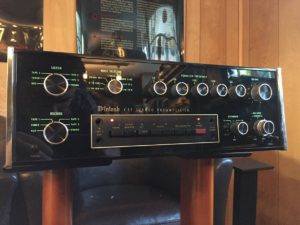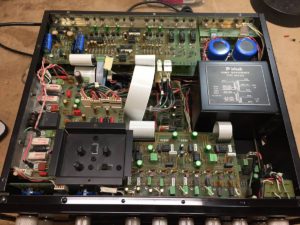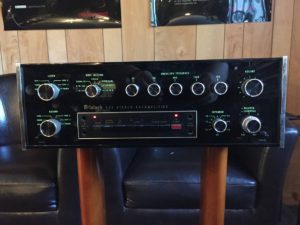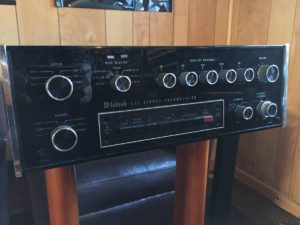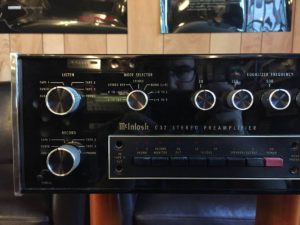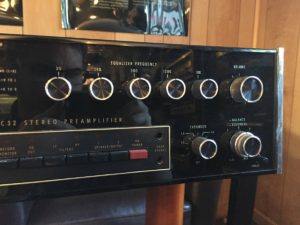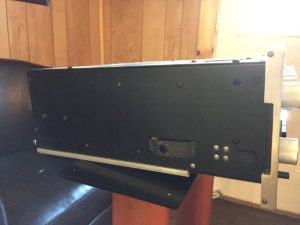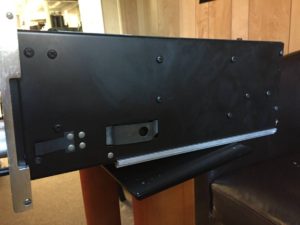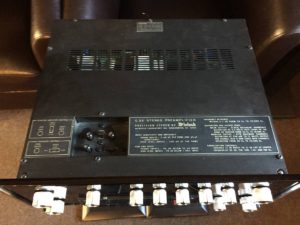 This is probably the best C-32 you'll find. It is in amazing condition, and it has been completely restored. The glass faceplate is flawless, the lighting is complete, and it has been completely recapped with all new Nichicon Muse, Fine Gold, PW, KZ capacitors. The controls have all been flushed with Deoxit for quiet, smooth operation. The large filter capacitors have also been replaced and upgraded.
The big update on this unit is that the original ribbon cables (known to delaminate and cause problems) have been replaced with high quality computer grade, heat resistant ribbon cable kit.
Call or email for pricing and more info!
Also ask about our matching McIntosh
CR-7 remote control system
________________________________________________________
The McIntosh C32 preamplifier provides the most comprehensive range of functions and control options. Many of these are new in a preamplifier.
The C32 is a dual stereo preamplifier with a built-in monitor power amplifier. There are two totally independent left and right stereo program lines running through the preamplifier. One program line is the listen program line. the other is the record program line. Each program line can select its own program source from any connected input signal i.e. phono, tuner, aux or tapes 1, 2 or 3 without interference with the other program line.
The output of the listen program line is affected by all the front panel controls (except the record switch) and is fed to the main output and/or output 1 and 2 jacks as selected by front panel push buttons. The output of the record program line is not affected by front panel controls (except the record switch) and is fed to all output record jacks.
The monitor amplifier program may be selected from either the listen or record program lines. Separate gain controls for left and right monitor amplifier are located on the top panel. The signal selected for the monitor amplifier is fed to the front panel headphone jacks and the rear panel output line and monitor output connectors.
ELECTRICAL: Response 20-20kHz (+0 -0.5dB). Distortion 0.05%. Noise and hum -90dB aux, -80dB phono. Output rated 2.5v. Output impedance 220 ohms. Load impedance 5k. Input sensitivity and impedance: aux 0.25V at 50k, phono 2mV at 47k and 65pF. Program equalizer: 30, 150, 500, 1500 and 10,000Hz boost or cut 12dB. Headphone amplifier 12W/ch into 8 ohms at 0.1% distortion. LF filter 50Hz at 12dB/octave. HF filter 7kHz at 12dB/octave. Voltage gain 20dB aux, 62dB phono.
FRONT PANEL: Glass panel. Illuminated. Listen selector: aux, tuner, tape 1, tape 2, tape 3, phono. Mode selector: L to L+R, R to L+R, stereo rev, stereo, mono (L+R), L+R to L and L+R to R. Program equalizer: 30, 150, 500, 1500 and 10k, Volume, Record selector: aux, tuner, tape 1, tape 2, tape 3, phono. Pushbutton switches with indicator lights: phono 1 or 2, record monitor, EQ out, LF and HF filter: in or out, speaker/output 1 and 2: in or out. Power: on or off. Headphone jacks, Tape 3 input and output jacks. Expander control: 1.0 to 2.0 with on-off switch, Balance, Loudness.
TOP PANEL: Monitor amplifier controls: left and right gain, input switch: record or listen. Expander controls: level match, speed: fast, norm and slow.
BACK PANEL: Outputs: 1, 2, main, line, tape 3, tape 2, tape 1, Monitor amplifier speaker push terminals. Speaker control relay socket. Inputs: tape 3, tape 2, tape 1, tuner, aux, phono 2, phono 1. Ground binding post. AC outlets: 4 switched, 2 switched (turntable auto-on). Auto-manual switch. Fuses: turntable and main. Panloc mounting.
Size 5-7/16″H, 16″W and 13″D behind panel. Weight 27 lb. Sold from 1977-1981. Last retail price $1649.00